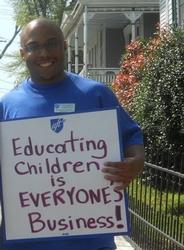 It is true that in 1988, former AFT International President Albert Shanker was the first education leader to champion the concept of charter schools, however, his vision was a parent/teacher led concept to be used as a way to empower teachers free from bureaucratic regulations. His goal was to strengthen the voice of professional educators in school and curriculum decision-making, but maintaining an acceptable level of accountability for the education of the students enrolled.
The charter schools bill being proposed in Alabama by Gov. Robert Bentley does not even come close to the late Mr. Shanker's vision. Charter schools are not all bad, but neither are they all good. Pursuant to the wording of the legislation, they can perform well or they can be used to grossly abuse the education system, teachers, parents and, most importantly, our students.
AFT Alabama recognizes that our schools need to make large, systematic changes to transform from an Industrial Age education model to one fit for the Knowledge Age. For these reasons, AFT Alabama is leading the way toward comprehensive and systemic solutions. We are committed to change – not just any fad or anything labeled "reform", but true reform based on the expertise of those on the ground, reform that works and will transform education as well as reshape schools so they better serve every student.
Points to Consider
? We applaud all schools that deliver results, which some charter schools do, and we believe charter schools should be part of a strong education system.
? Our largest affiliate, the United Federation of Teachers in New York City, operates two charter schools. In fall 2008, the UFT partnered with innovative charter school operator Green Dot to open a high school in the Bronx. Nationally, the AFT represents many excellent teachers and proud union members in charter schools.
? It's not clear at this time, however, if charter schools (as they currently operate) can have a major, positive impact.
? A comprehensive and rigorous study done by CREDO (a staunch charter school supporter), researchers found that only 1 out of 6 charter schools outperforms the neighborhood school; 1 out of 3 does worse than the neighborhood school; and the rest perform at the same level as the neighborhood school.
? The scope and scalability of charter schools is limited. If we're looking for solutions for all kids, then charter schools are not the answer. Typically, charter schools accept fewer students with special needs, if they accept them at all.
? Charter schools have been around for almost 20 years, and today they educate less than 3 percent of students in the United States.
? The US Department of Education's research on charter schools indicates there is no difference between students who attended charter schools vs. those who did not in the areas of academic achievement, attendance, homework completion, safety and discipline.
? A 2009 study showed that increasing the number of charter schools is not the answer either. The states that did poorest in the study (Texas, Florida, Ohio, and Arizona) have 300 or more charter schools. The states with charter schools out-performing public schools (Arkansas, Illinois and Missouri) have fewer than 100 charter schools each.
? A study by RAND fond that achievement in these schools did not improve at a rate greater than that of the rest of the district. It was also found that achievement did improve greatly in low-performing public schools that received additional resources but remained under district management.
Sincerely,
Richard E. Franklin, Jr.
President
Birmingham Local #2115