Meeting with Richard Lindsey, Chair of the House Education Budget Committee
"Benefit cuts to educational professionals are not in the best interest of the children of Alabama. We must work hard to find alternatives to gutting the benefits of teachers and paraprofessionals. We will not accept having cuts to our medical insurance, our prescription drug program and our retirement dictated to us by PEEHIP and the TRS. We demand a seat at the table."                                                                   
Save the Date: Feb.2,2010                           
Right now, the State Legislature is deciding the future of our health and retirement benefits. This is a crucial time. If you want to protect your health and retirement benefits now is the time to take action.
 MEETING ON BENEFITS CUTS Birmingham AFT Union Hall (19O1 1Oth Ave. South)                     
Contact Richard Franklin, at 205/252-2631, for more information.    4:3O p.m. - 6:3O p.m. 
Our message has been heard and our strength recognized. We will continue to grow in numbers and power. We will continue to spread the message that we will not simply accept cuts to our benefits, no matter what PEEHIP and the TRS says.
 Time to Stand Together
 A Powerful Message
Top leaders of the Alabama House and Senate, including Richard Lindsey, Chair of the House Education Budget Committee and Hank Sanders, Chair of the Senate Education Budget Committee, have heard our message.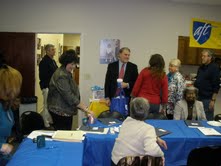 Meeting with Richard Lindsey, Chair of the House Education Budget Committee
We have said loud and clear:
---
Additional Resources