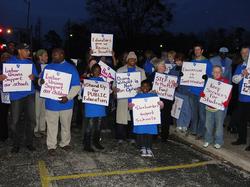 The JCAFT and BAFT will be calling upon all educators to stand with us during the 2012 legislative session. We need your help fighting the tough issues ahead! By contacting your legislator, either by phone, email or in person, you will be giving a voice and a face to the issues at hand. By clicking on the link below, you will be directed to the Alabama State Legislature website. On the left side of the page, you can enter in your zip code and be directed to the appropriate senator and representative for your area.
Join the fight against the attack on education by clicking here!
If you have colleagues who would like to receive legislative information, please forward their names, PERSONAL email, address and cell phone number if they wish to provide it. Non-members are welcome to join our efforts as well.
Thanks for all you do!