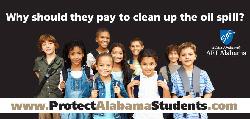 "Education in Alabama is at a crossroads," says Jefferson County AFT president Vi Parramore. "If we're serious about making our schools better, then it's going to take the combined efforts of our union members, parents, politicians and community groups."
One of the chief concerns has been the state's looming education budget shortfall. The BP disaster in the Gulf of Mexico has wreaked havoc on state sales tax revenue, a primary source of funding for Alabama schools. AFT Alabama is actively building a coalition of labor, community and political allies focused on holding BP accountable to Gulf Coast residents. Part of that effort is making sure Alabama schools get their fair share of the $20 billion escrow account set up by BP to pay damages claims.
"BP isn't the only problem we have in Alabama, but this disaster has placed the future of Gulf Coast schools and children in serious jeopardy," says Richard Franklin, acting president of the Birmingham Federation of Teachers. "We need to keep a close eye on BP's escrow fund to make sure Alabama's education system is adequately compensated. Our kids' futures shouldn't be put in jeopardy because of this oil spill."
The Protect Alabama's Students effort will also feature a series of community outreach projects, including continuing AFT Alabama's Extreme Classroom Makeover project, which will transform a Gulf Coast school, and participating in the "Caravan of Love," where union members from across the state will work with community organizations in the hardest-hit areas to help those affected get back on their feet.
The union also is running print ads and billboards as part of the campaign.
"This isn't just about what AFT Alabama is doing—this is a call for 'all hands on deck,' " Parramore says. "We're on a mission to secure great schools for our children, and we welcome any and all groups or individuals who want to help us achieve that goal." [AFT Alabama press release]